MultiTower® automated storage system with stacker crane
In case of storing huge quantities of steel sheets the perfect solution is the MultiTower®system, consisting of multiple storage columns, that enable storing material placed on the movable shelves. The supporting structure consists of the front section and rear section, in which between the stacker crane moves.
The system can be equipped with multiple loading-unloading stations that allows the input of the material into the system and the transport onto the machines (for example – laser cutting machines, punching machines).
Baumalog software, depending on the chosen configuration, allows for e.g. integration with ERP and WMS systems and running comprehensive warehouse management (e.g. controlling minimum stocks, locations, handling orders in electronic form, ensuring the FIFO rule).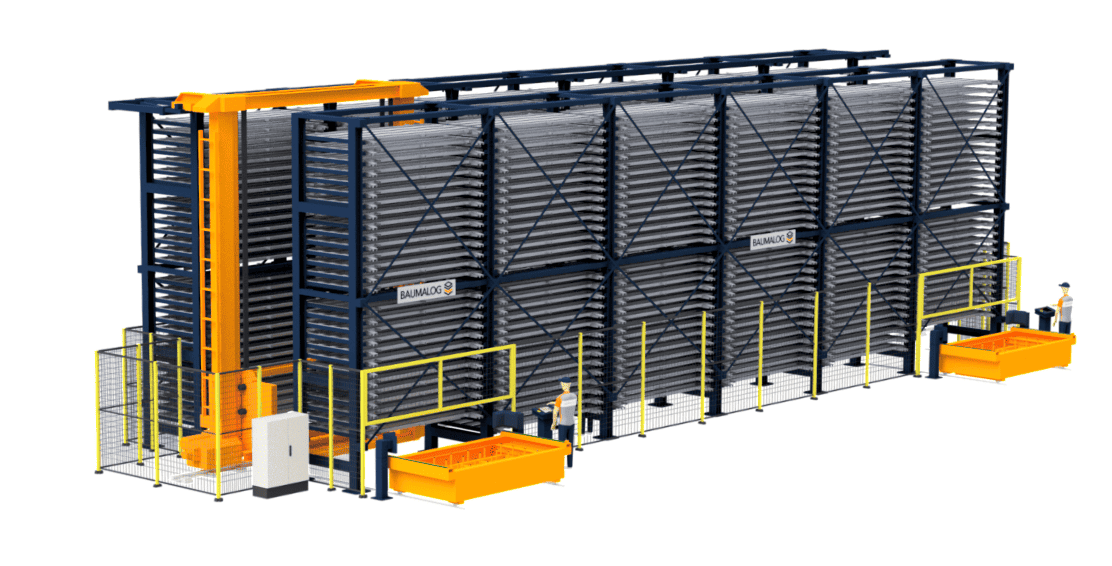 Advantages
increased material flow and manufacturing efficiency
access to materials stored on multiple columns enabled through each loading-unloading stations
saving storage area – even to 89%
significant increase of storage effectiveness thanks to elimination of forklift to transport materials
easy and quick access to stored products
goods are stored in a organized and safe way
controlling warehouse and production processes thanks to integration with ERP and WMS class systems
possibility of integration with other machines of the technological line
increased work safety
Features of the MultiTower®system
possible configuration of the system to store sheets in different dimensions – 3 m x 1,5 m, 4 m x 2 m, 6 m x 2 m
max. shelf load capacity – 5 000 kg
system height – up to 20 m
system length – up to several hundred meters
system capacity – up to several thousand tons
possibility of outdoor installation
modular construction enables to extend system in the future
optional equipment with stations exiting outside the building
optional weighing device in the loading-unloading station
customized quantity and configuration of loading-unloading stations
intuitive and easy to control software made by Baumalog that enables integration with ERP and WMS class systems
In the presented configuration the station moves along the longer side of the shelf operating new deliveries of steel sheets into the system. The station is equipped with a hydraulic lifting device that is used for separating sheet metal packages from pallets and a basing system that enables the position correction of steel sheets on the shelves by using a forklift. The two other stations move along the shorter side of the shelf transporting material to the operators or machines in the technology line.
The animation shows: transporting of new sheets – depalletization – transporting the shelf back to the storage column – transporting the shelf with material that should be loaded.