MultiTower® automated storage system
The MultiTower® automated storage system is intended to store large quantities of heavy tools like dies, technical instruments or spare parts. The system consists of multiple storage columns which are operated by the stacker crane that moves on driving track. The stacker crane transports the shelves to the loading-unloading stations which can be multiple and can drive in different directions delivering the materials that should be picked or directly to the production machines.
Baumalog software, depending on the chosen configuration, allows for e.g. integration with ERP and WMS systems and running comprehensive warehouse management (e.g. controlling minimum stocks, locations, handling orders in electronic form, ensuring the FIFO rule).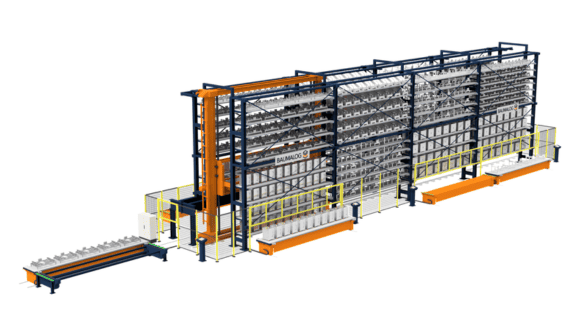 Advantages
storage space saving even to 89%
easy and quick access to stored goods
optimalization of warehouse operations
easy loading and unloading of goods
intuitive controlling software
control over warehouse manufacturing processes possible due to integration with ERP and WMS systems
increased work safety
Features of the MultiTower® system

max. system height – 20 m
max. shelf capacity – 5 000 kg
max. shelf length – 12 m
possible shelf construction with solid bottom
modular construction allows to expand the system in the future
possible outdoor installation
possible use of multiple loading-unloading stations that drive along the shorter or longer side of the shelf
loading and unloading can be executed by forklift, jib crane or manually
controlling software by Baumalog (possible integration with ERP and WMS systems)