SmartFlow system – automated steel sheet processing

SmartFlow System is a solution for automated steel sheet processing. It consists of an automated loading and unloading of laser cutting machines and an automated steel sheets storage system. The system can process multiple laser cutting machines simultaneously enabling the full use of cutting speed and the high efficiency of manufacturing. Every time we design the system we take into consideration the specific needs of the client and character of manufacturing process.
Elements of the SmartFlow System:
storage module – automated steel sheet storage system (MonoTower®, TwinTower®, TransferTower or MultiTower) – configuration adjusted to the client needs
transport module – MultiLoader loading-unloading module
station for the transport of cut pieces
software that manages material flow and the cutting process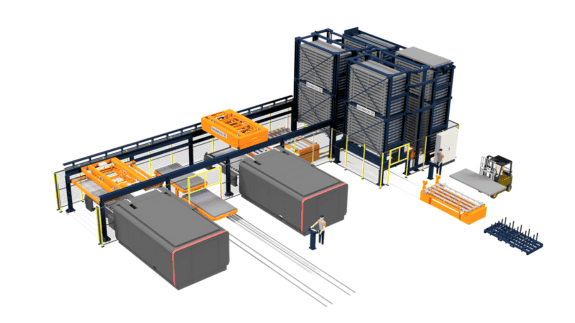 Advantages
organized material flow in the cutting process
automated steel sheets processing
elimination of downtimes
full use of the cutting speed of the laser cutting machines
efficient use of production space
increased manufacturing efficiency
increased work safety
limited forklift use
Features of the SmartFlow System
designed for process sheets of dimensions 3m x 1.5m, 4m x 2m, 6m x 2m
possible integration with various brand of laser cutting machines
modular construction enables to adjust the system anytime to the clients specific individual needs
possible extention of the system in the future
possible processing of multiple laser cutting machines simultaneously
short material changing time
independend loading and unloading module
possible loading of steel sheets and unloading of cut pieces without the need of stoping the transport system
different available configurations of automated storage systems (MonoTower®,TwinTower®,TransferTower or MultiTower)
dedicated Smart WMS Production software for manufacturing management
flexibility in cut pieces material flow
Technical data
| | | | |
| --- | --- | --- | --- |
| Max. sheet dimension | 3 m x 1.5 m | 4 m x 2 m | 6 m x 2 m |
| Max. sheet weight | 900 kg | 1600 kg | 2300 kg |
| Max. sheet thickness | 25 mm | 25 mm | 25 mm |
The animation shows SmartFlow System in configuration with TransferTower automated storage system, MultiLoader loading-unloading system for processing 3 laser cutting machines and 3 transport stations for cut pieces delivery to the operators. All the system elements work independend and simultaneously what allows to fully automate the production process.